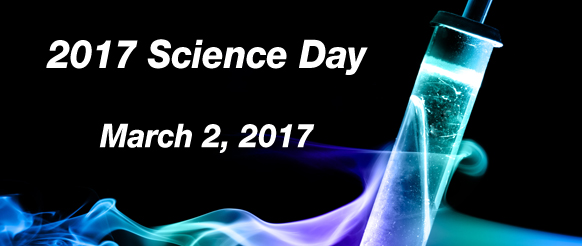 Science Day 2017 on Thursday, March 2nd will feature a wide variety of presentations from Wisconsin State Laboratory of Hygiene (WSLH) and Wisconsin Department of Natural Resources (DNR) staff covering topics in environmental science, communicable disease, forensic toxicology, newborn screening, and occupational health.
Science Day will be held at the WSLH's laboratory at 2601 Agriculture Drive, Madison.
Click presentation titles below for a webcast of that presentation.
Agenda
9:00 – 9:20 AM – Welcome and Introductions
9:20 – 9:50 AM – Hog Island Sediment Project (WSLH Environmental Toxicology and DNR)
9:50 – 10:10 AM – Break
10:10 – 10:25 AM – Drinking Water – Is Our Water Safe? (DNR)
10:25 – 10:55 AM – Large-Volume Water Testing (WSLH Water Microbiology)

10:55 – 11:00 AM – Break
11:00 – 11:15 AM – Lead in H20 (WSLH Metals)
11:15 – 11:30 AM – Herbicides Monitoring from Treatments for Invasive Aquatic Plant Species (DNR)
11:30 – Noon – What is Long-Term Monitoring Telling Us? (DNR)
Noon – 1:00 PM – Lunch on your own
1:00 -1:40 PM – Antibiotic Resistance from the Public Health Perspective – (WSLH Communicable Disease)
1:40 – 2:20 PM – Heroin, Opioids and Drugged Driving – (WSLH Forensic Toxicology)
2:20 – 2:30 PM – Break
2:30 – 3:10 PM – A Killer Cup of Joe, Literally: WisCon, WOHL & Worker Health – (WSLH Occupational Health)
3:10 – 3:50 PM – Newborn Screening 101 – (WSLH Newborn Screening)
3:50 – 4:00 PM – Closing Remarks