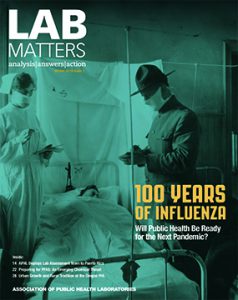 2018 marks the 100th anniversary of the 1918 influenza pandemic that caused the deaths of an estimated 675,000 Americans and tens of millions worldwide.
The latest issue of Lab Matters from the Association of Public Health Laboratories (APHL) features an article recounting how far the public health system has come in being able to respond to influenza pandemics – and how far it still needs to go.
The article includes an interview with Wisconsin State Laboratory of Hygiene (WSLH) Communicable Disease Division Director Pete Shult, PhD, and highlights the important work the WSLH performs as 1 of 3 National Influenza Reference Centers (NIRC).
As a NIRC, the WSLH provides influenza virus isolation, antiviral medication resistance, and whole genome sequencing testing services for 17 states, including Wisconsin.
Test result data is provided to the Centers for Disease Control and Prevention (CDC) to speed influenza vaccine development and better understand what influenza viruses are circulating and how they may be changing.