WSLH Research Support Center
Welcome!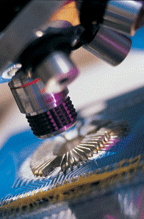 Established in 1903 as a part of the University of Wisconsin-Madison, the Wisconsin State Laboratory of Hygiene (WSLH) is operated by UW faculty, academic staff, professional chemists and microbiologists, health and safety consultants, and informatics specialists.
Our clinical, environmental and occupational health laboratory facilities offer researchers state-of-the-art analytical testing capabilities with the expertise of laboratory scientists who understand the unique challenges of research projects.
As the state's public health laboratory, researchers can benefit from the WSLH's close working relationships with local, state and federal health and environmental agencies–as well as private sector clinical and environmental laboratories–to link your research with the professionals putting science into practice.
Directory of WSLH Resources and Services for Researchers
Contact the WSLH Research Support Center at 608-890-1093 or through the form below to discuss your research needs.