Wastewater-Based Epidemiology (WBE)
The Wisconsin State Laboratory of Hygiene (WSLH) in partnership with the UW-Milwaukee School of Freshwater Sciences (UWM) and the Wisconsin Department of Health Services (DHS) is collecting wastewater from a large number of municipal wastewater treatment facilities (WWTFs) across the state of Wisconsin and analyzing it for the presence of genetic material from SARS-CoV-2 (the virus causing COVID-19) and other human pathogens. This undertaking is referred to as Wastewater-Based Epidemiology (WBE), where wastewater is analyzed to determine the presence and concentrations of pathogens in the community served by the WWTF. The resulting data provides a population-level (as opposed to individual level) snapshot of pathogen levels and trends in the community.
In July 2023, the Centers for Disease Control and Prevention named the Wisconsin Wastewater Surveillance Program a National Center of Excellence for wastewater surveillance within the National Wastewater Surveillance System (NWSS). Wisconsin joins just three other CDC NWSS Centers of Excellence in the country.
Advantages of Wastewater-Based Epidemiology
Many pathogens, including SARS-CoV-2, are shed into wastewater from humans, primarily in their fecal matter.
Assessing the level of SARS-CoV-2 infection in a community by traditional clinical approaches can be difficult and expensive. Many infected individuals have mild or no symptoms, making them unlikely to seek testing, while testing services/sites may not be available or accessible to some residents.
In contrast, municipal sewer systems indiscriminately collect and aggregate wastewater providing a well-mixed sample of all households and businesses in the sewage district, resulting in a representative snapshot of the whole community.
WBE will not replace existing public health monitoring systems, but will supplement them, providing an independent–and sometimes more accurate–assessment of pathogen prevalence.
Wastewater Analysis Workflow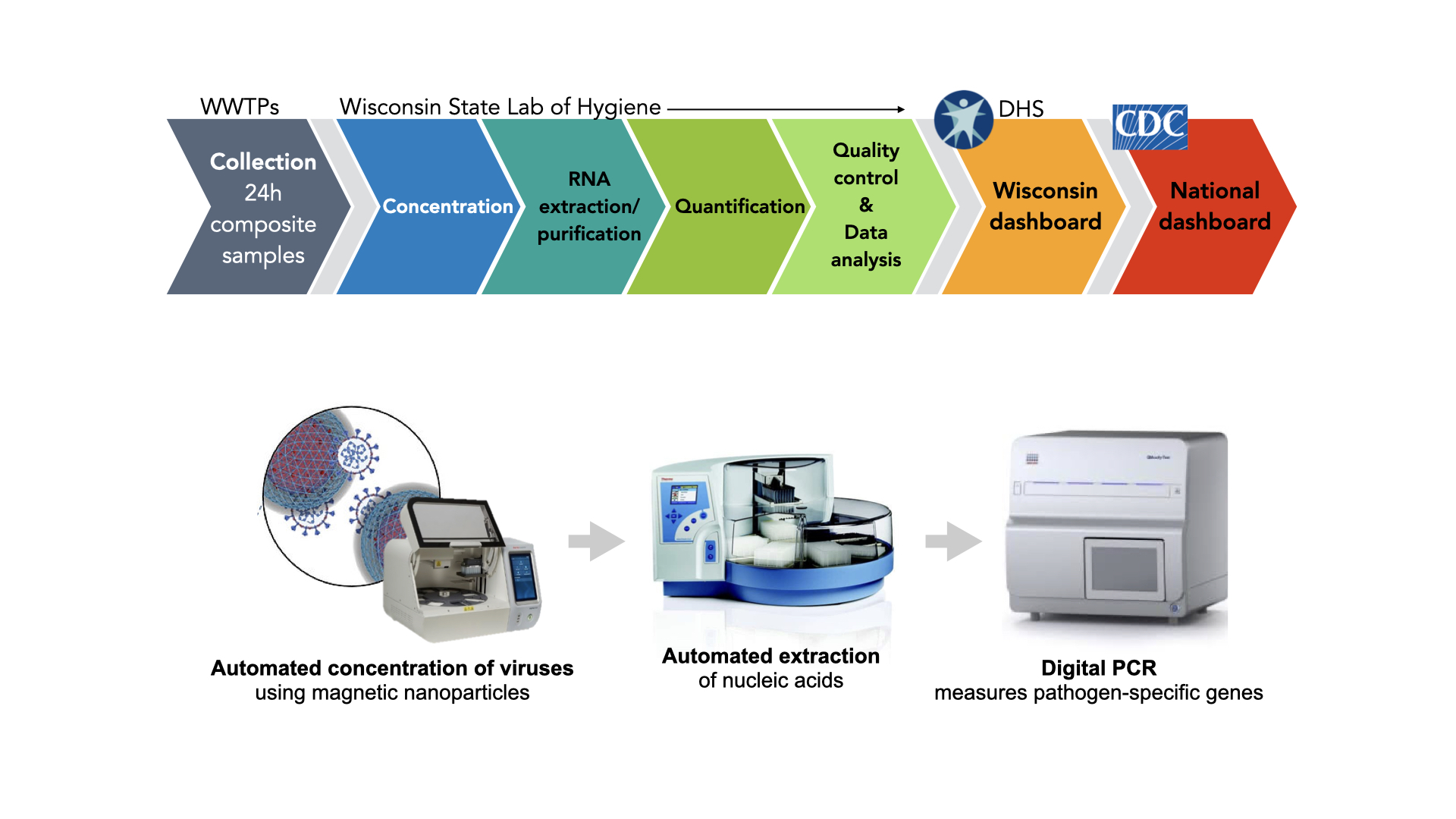 Virus capture and concentration from wastewater video
Wisconsin Wastewater Surveillance Results
The WSLH/UWM/DHS WBE program was launched in September 2020 and currently covers approximately 50% of Wisconsin's population (68% of sewered population), and will continue through at least July 2027. It is supported by grants from the WI DHS, with funding for wastewater monitoring programs secured from the Centers for Disease Control and Prevention (CDC).
Wastewater influent samples are shipped overnight to the WSLH and results of the wastewater analyses are posted on a publicly available dashboard, typically within 48 hours of sample receipt.
The DHS dashboard is updated frequently, and the data is also submitted to the National Wastewater Surveillance System (NWSS) and posted on their public dashboard.
Detailed reports are provided weekly to all participating WWTFs/utilities. The wastewater data are used by epidemiologists to help assess local and regional virus prevalence, and to direct disease mitigation efforts.

Going Forward
WBE efforts continue to grow and evolve and the WSLH is on the forefront of those efforts. We are collaborating with the University of Wisconsin-Madison Data Science Institute, the Association of Public Health Laboratories, and other universities performing wastewater surveillance to advance the science of WBE and further improve our ability to detect diseases and minimize their spread.
We have been monitoring wastewater levels of influenza A & B (seasonal flu strains) and respiratory syncytial virus (RSV) and are adding norovirus and adenovirus in Fall 2023 (the latter analyzed by UW-Milwaukee). In addition, we have developed methods to monitor the antibiotic-resistant pathogens of concern and are currently working with Wisconsin DHS to determine if wastewater monitoring is needed.
Sequencing of SARS-CoV-2 is now routinely performed on wastewater samples collected from more than 20 WWTF across Wisconsin. These data and visualizations are available on a dashboard accessible to the public: https://dataportal.slh.wisc.edu/sc2-ww-dashboard. Sequencing methods for flu strains and other pathogens of concern are in development as well.
Resources
FAQs for Wastewater Treatment Facilities
FAQs about wastewater surveillance
Glossary of wastewater surveillance terms
Wastewater Facility Recruitment Letter
In the News
Public Health Madison-Dane County – Can Wastewater Data Predict Future COVID Surges?
WKOW-TV – Researchers use sequencing to detect variants of COVID-19 in waste water 
WI Public Radio – Wastewater surveillance a helpful tool in detecting new COVID-19 variants
Spectrum News1 – COVID-19 down the drain: What wastewater can tell us about our pandemic future
WKOW-TV – 'Everybody has to poop': How wastewater can help predict COVID-19 trends in Wisconsin
Channel 3000 – 'You need to be patient': COVID-19 wastewater scientist says it's too soon to tell if Madison is past Omicron peak
UW: Wisconsin named National Center of Excellence for wastewater surveillance
Channel 3000 – 'Significant increase' in COVID-19 levels in Madison wastewater reported following lowest levels of year
WKOW-TV – Cases of COVID-19 are rising slightly, but doctor says it's not cause for concern
Milwaukee Journal-Sentinel: Everybody poops. Wisconsin is a national leader in using it to monitor public health.