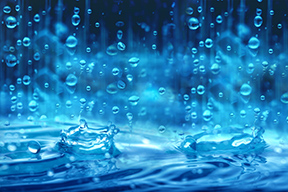 The Wisconsin State Laboratory of Hygiene (WSLH) at the University of Wisconsin-Madison has been chosen as the central analytical laboratory and program office for the National Atmospheric Deposition Program (NADP).
The NADP serves public and environmental health, science, education and agriculture by monitoring North America's precipitation and atmosphere for a range of chemicals and uses that data to determine both time and space trends for concentration and deposition.
NADP is a cooperative effort between many different groups including federal, state, and local governmental agencies, tribal governments, educational institutions, private companies, and non-governmental agencies which provide funding, scientific, and technical support. Funding comes from monitoring site participants and the following federal agencies: National Park Service, US Geological Survey, National Oceanic & Atmospheric Administration, Bureau of Land Management, Environmental Protection Agency, US Department of Agriculture Forest Service, and Agricultural Research Service.
"NADP is the international gold standard for long-term, high quality air pollutant monitoring and has been in operation for 40 years. The program aligns quite well with both the WSLH's mission as well as the Wisconsin Idea," said WSLH Director and UW-Madison Civil and Environmental Engineering Professor Jamie Schauer.
As the central analytical laboratory and program office, the WSLH will provide pre-analytic services, analytic testing and post-analytic results and data analysis for samples from 300+ monitoring sites across the country. Data is made publicly available. The program office at the WSLH will work with NADP committees on network operations, science, education, and outreach activities.
The NADP central analytical laboratory and program office have been housed at the University of Illinois at Urbana-Champaign. The transition to the WSLH will occur over the next few months.
"The WSLH is a lab with an outstanding reputation for excellence. We are pleased that the program office and central analytical laboratory will be able to remain together in a single institution and are excited about the potential to build new connections within the University of Wisconsin," said Tamara Blett, Chair, NADP Executive Committee.