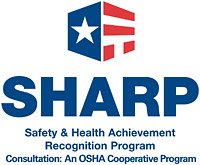 Rotating Equipment Repair, Inc., (RER) provides repairs, parts and field service to the high-end energy pump market. Located in Sussex, Wis., RER received their fifth SHARP recertification from OSHA and the WSLH Onsite Safety and Health Consultation Program (WisCon).
RER first received SHARP status in 2009. Their current re-certification lasts until May 8, 2020.
SHARP stands for Safety and Health Achievement Recognition Program and is a recognition program for companies who have excellent health and safety program management systems in place.