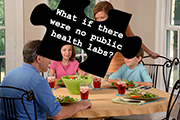 A new Association of Public Health Laboratories (APHL) podcast tells the horror stories that can happen to families everywhere when there are no public health labs.
The podcast is the second in a series produced by cohort 10 of the APHL Emerging Leader Program. The podcast stories focus on emerging infectious diseases, newborn screening, and foodborne illness and highlight the vulnerabilities we all would face if there were no public health labs like the Wisconsin State Laboratory of Hygiene (WSLH) working to keep our communities and populations safe.
After the fictional (thankfully) stories, the podcast continues with subject matter expert interviews explaining how public health labs would meet the challenges presented in each story.
WSLH WI Clinical Laboratory Network Coordinator and Co-Biosafety Officer Erin Bowles, a member of APHL Emerging Leader Program cohort 10, helped produce and narrated this episode. WSLH Communicable Disease Division Director Dr. Pete Shult was interviewed for the emerging infectious disease portion of the podcast, and Jim Hermanson, WSLH Office of Information Systems, provided expert assistance in recording and editing.
Listen here at http://www.aphlblog.org/2018/05/lab-culture-ep-11-no-public-health-labs/.