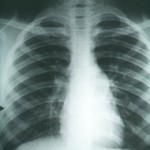 The old saying "you are what you eat" may be joined by a new variation – "you are what you breathe" – due to an innovative research collaboration between an engineer and a transplant surgeon.
Jamie Schauer, University of Wisconsin-Madison professor of civil and environmental engineering and director of the Wisconsin State Laboratory of Hygiene's air chemistry program, has teamed up with UW-Madison transplant surgeon and Assistant Professor Joshua Mezrich to investigate how pollution impacts patients after a lung transplant.
Their work is an example of how Schauer believes environmental engineers and medical professionals can work together to better understand possible links between air pollution and health problems in people.
Schauer and Mezrich's recent work was profiled by the UW-Madison College of Engineering.
They also just received a $1.8 million grant from the National Institutes of Health to continue their research.
The analysis of air samples for this research is performed at the Wisconsin State Laboratory of Hygiene.