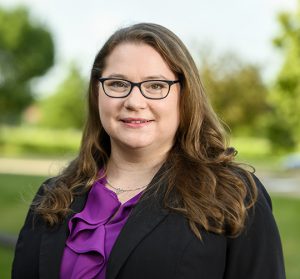 Alana Sterkel, PhD, D(ABMM), SM(ASCP)CM has been promoted to Associate Director of the WSLH Communicable Disease Division (CDD) and appointed Assistant Professor (CHS) in the University of Wisconsin Department of Pathology and Laboratory Medicine. Dr. Sterkel has served as a Co-Assistant Director for CDD since 2017.
Dr. Sterkel received her PhD from the University of Wisconsin-Madison. Her doctoral research focused on subversion of innate immunity by Blastomyces dermatitidis. Following completion of her PhD, Dr. Sterkel was awarded the Clinical Microbiology Fellowship through the UW Department of Pathology and Laboratory Medicine with a research focus on clinical infections.
After joining the WSLH, Dr. Sterkel has continued her research, which focuses on host-pathogen interactions and investigating clinical data to answer public heath related research questions. An active project in her lab is to investigate the impact of pollution on the immune response to respiratory infections.
In addition, she teaches courses at the University of Wisconsin School of Medicine and Public Health and developed an Accreditation Council for Graduate Medical Education (ACGME) accredited training rotation for UW infectious disease fellows and pathology residents. Dr. Sterkel also presents scientific talks on the local, regional, state, and national levels, and has published more than 20 peer-reviewed publications.
She is a Diplomat of the American Board of Medical Microbiology and serves as a peer-reviewer for the Journal of Clinical Microbiology, the Journal of Clinical Microbiology and Laboratory Medicine, and the Diagnostic Microbiology and Infectious Disease Journal.