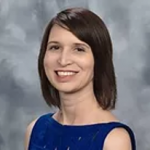 The Wisconsin State Laboratory of Hygiene (WSLH) is pleased to announce that Errin Rider, Ph.D., D(ABMM), M(ASCP)CM, has accepted the position of WSLH Associate Director of Clinical Testing. She will begin her new position on Sept. 1st.
Dr. Rider comes to the WSLH from the Riverside County Public Health Laboratory in California where she serves as Laboratory Director. Prior to that she served as Assistant Laboratory Director of the Louisiana Office of Public Health Laboratories from 2013-2018.
Dr. Rider earned a Bachelors in Science in Biology from San Diego State University followed by earning a Ph.D. in Virology from Harvard University. Following graduation, she was awarded a post-doctoral fellowship at the California Department of Public Health where she trained as a Lab Aspire Fellow in Clinical and Public Health Microbiology. She is a diplomat of the American Board of Medical Microbiology (ABMM) and also has national certification in Clinical Microbiology.
The Associate Director of Clinical Testing is a new position for the WSLH. Dr. Rider will serve as the College of American Pathologists (CAP/CLIA) Laboratory Director for the WSLH and will provide administrative leadership to all clinical testing at the WSLH, which includes Biochemical Genetics, Chemical Emergency Response, Communicable Diseases, Cytology, Cytogenetics, Molecular Genetics, and Newborn Screening. This position will also be responsible for facilitating and overseeing, in collaboration with Division Technical Directors; lab wide quality assurance, safety (including biosafety), and other compliance processes at the WSLH, and serve as the primary WSLH administrative liaison to the Wisconsin Department of Human Services (DHS) and WSLH clinical and healthcare partners.