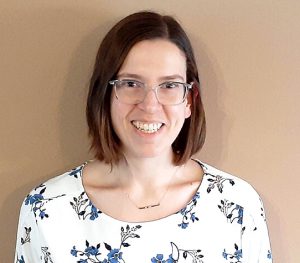 Heather Barkholtz, assistant professor in the University of Wisconsin-Madison School of Pharmacy and the WSLH Forensic Toxicology section, was awarded a $270,000+ grant from the National Institute of Justice (NIJ), the research, development and evaluation agency of the U.S. Department of Justice.
The research project is entitled Illuminating the Dark: Molecular Networking as a Novel Psychoactive Substance Identification Strategy.
According to Dr. Barkholtz –
"Illicit use of novel psychoactive substances (NPS) such as 'spice' and 'bath salts' have become increasingly popular among drug users. When a NPS emerges, its chemical structure is not known to forensic toxicologists seeking to detect them in impaired drivers, drug-facilitated crimes, overdose incidents, etc. When these NPS go undetected in forensic laboratories, public health, law enforcement, and medical professionals do not have complete information from which to make decisions.
"This project aims to use a new mass spectrometry data analysis technique called the Global Natural Product Social (GNPS) Molecular Networking interactive online data curation and analysis infrastructure to enable rapid identification of emerging NPS.
"The GNPS platform can be thought of as a dynamic, accessible, living toolkit and database for identification of previously unknown chemical structures in high-resolution mass spectrometry data. This work will demonstrate GNPS as a solution to high-resolution challenges in mass spectrometry data analysis and identification of NPS faced by the forensic community."