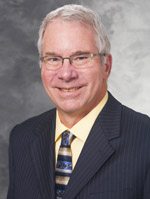 Peter Shult, emeritus director of the Wisconsin State Laboratory of Hygiene (WSLH) Communicable Disease Division, received the Lifetime Achievement Award from the Association of Public Health Laboratories (APHL) in a May 19th virtual ceremony.
The APHL Lifetime Achievement Award recognizes individuals with a history of distinguished service to APHL and who made significant contributions to the advancement of public health laboratory science and/or practice and exhibited leadership in the field of public health and/or influenced public health policy on a national or global level.
"I am deeply honored and appreciative of this award," Shult said. "However, in my mind, I share this recognition with many individuals, including my Directors (3 in total) over the years who unfailingly mentored, enabled and supported my efforts, my WSLH staff and colleagues who made everything happen and my many collaborators at APHL, CDC and UW-Madison who shared a common vision. This award is all of ours and I thank you all."
Shult, who retired in early 2021, dedicated his 32 year career to serving the public's health, public health laboratories and the public health system. A national leader in infectious disease laboratory surveillance, Shult helped lead the APHL/Centers for Disease Control and Prevention (CDC) collaborative Influenza Surveillance Workgroup, which was responsible for developing a novel approach to strengthen influenza surveillance in the United States.
In the mid-1990s, he developed the innovative Wisconsin Clinical Laboratory Network (WCLN), one of the first laboratory-based surveillance networks in the United States that serves as a model for public health laboratories across the country.
The true value of the WCLN was demonstrated in the coordinated response of the laboratory network to the COVID-19 pandemic. In the pandemic's first months, the 130+ WCLN laboratories looked to the WSLH for information and guidance and supported SARS-CoV-2 testing at the WSLH.  As commercial tests received FDA Emergency Use Authorization, the WSLH supported the clinical laboratories in bringing on testing by providing guidance and validation panels. This allowed for more rapid testing closer to the patient and quickly increased testing capacity within the state.
Shult has also contributed significantly to the library of public health knowledge. During his career he has authored or co-authored more than 50 peer reviewed journal articles. Since 1998, he has been a clinical professor in the University of Wisconsin-Madison Department of Medical Microbiology and Immunology, teaching courses on emerging infectious diseases as well as vaccines in a global society. Many of his students have gone on to careers in the field of public health.
"Pete's life-long service to public health within the borders of Wisconsin and beyond exemplify the Wisconsin Idea," said WSLH Director and UW Professor of Civil and Environmental Engineering Jamie Schauer. "He has been a dedicated mentor and educator at the Wisconsin State Laboratory of Hygiene and the University of Wisconsin-Madison and has played a key role in shaping our national preparedness and response for infectious disease, emerging threats and importantly pandemics."
APHL says this award "… is not a retirement award, but a true Lifetime Achievement Award." Shult's true lifetime impact is best summed up by his nominators –
"His passion, dedication and commitment to the field of public health have made a lasting impact on the lives of those who know him or work with him, but also countless others he has never met. This truly defines the achievement of one who has given his all for others, not for himself, but for humanity; for the public's health."
More about Shult's accomplishments and his Lifetime Achievement Award
More about all of APHL's 2021 award winners