On November 2, 2020, WSLH Director Jamie Schauer presented the 2020 WSLH Employee Recognition Awards via Zoom.
The WSLH Employee Recognition Awards Program was created in 2018 as one of many ways to bring awareness to all the great work being accomplished throughout the lab.
The nominees for the 2020 awards are (in alphabetical order):
Lisa Berkan
Erin Bowles
Barb Gaffney
April Meiller
John Olson
And the Winners are …
Collaboration Award – Lisa Berkan
(Nominated by Dr. Dan Kurtycz)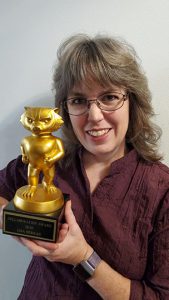 In non-pandemic times, Lisa serves as the Clinical Testing Co-Chair of the WSLH Quality Assurance Committee.
During the pandemic, however, Lisa has taken on an important additional role – Acting as Quality Manager/Specialist of the Wisconsin Veterinary Diagnostic Laboratory/Wisconsin State Laboratory of Hygiene COVID Laboratory (WWCL). This lab is performing several thousand tests a week for UW-Madison students, faculty and staff.
According to Dr. Kurtycz, Lisa "…has thrown herself into the role and is central to providing the documentation and operational constructs that have made the laboratory a reality. Her ability to ramp up and meet the needs of this crisis situation on campus from a standing start has been nothing short of remarkable. … Lisa is passionate in providing good laboratory service and always remembers that there is a patient connected to the sample."
Congratulations Lisa!!
Education and Outreach – Erin Bowles
(Nominated by Noel Stanton and Jan Klawitter)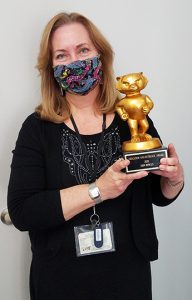 Erin Bowles was awarded the Educational/Outreach Award for her continued dedicated work with the Wisconsin Clinical Laboratory Network (WCLN). The WCLN is a group of 130+ Wisconsin clinical laboratories that comprises an essential link between state and local public health and clinical laboratories. Erin conceives topics, plans, finds speakers and/or presents, and moderates educational and timely webinars, all of this delivered monthly during non-pandemic times and more frequently during the pandemic.
In addition to webinars, Erin moderates a very active WCLN listserv and writes a WCLN Lab Message newsletter on a bi-weekly and sometimes weekly basis. She is seen as a WSLH go-to contact for a myriad of information, questions, and education for these labs.
According to Noel and Jan, "The WCLN members give so much to public health and Erin works hard to ensure they get education, information and help in return. Through the efforts of Erin and many other Communicable Disease Division staff, the WCLN and the WSLH are seen as models across the country for how to create, facilitate and grow a clinical laboratory network."
Congratulations Erin!!
Staff Distinguished Service – Barb Gaffney
(Nominated by Steve Strebel)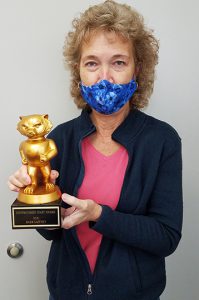 Barb Gaffney has been with the State Lab for 30+ years in the Environmental Health Division. She is often the main "face and voice of the State Lab" that EHD customers see and hear as she staffs the AG Drive front desk in addition to her duties with Horizon Data Management and Water Microbiology data entry.
According to Steve, Barb "… shows her love and dedication to the lab each day by how she performs her job and reacts with our clients. … She comes in early to get the day off to a good start and always makes sure critical tasks are finished or delegated by the end of the day. She staffed the front desk without complaint during COVID and never missed a day in 4 months. … She has tremendous patience walking our clients through the proper steps to take valid water samples. … There was one time this summer that an elderly client just could not understand how to take the sample. Since the client lived near her, Barb actually went to the client's home and took the sample for her after work."
Congratulations Barb!!