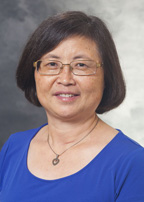 WSLH Newborn Screening Laboratory Co-Director Dr. Mei Baker has been promoted to full professor in the UW Department of Pediatrics and also was named the inaugural Wynne Mateffy Professor of Peroxisomal Disorders.
The Wynne Mateffy endowed professorship supports UW Department of Pediatrics faculty who conduct research on peroxisome biogenesis-related metabolic disorders. This endowed professorship was the result of a generous gift from the Wynne Mateffy Research Foundation with a match from John and Tashia Morgridge.
Dr. Baker is working with a PhD student to assess the carrier rate of Zellweger syndrome using publicly available whole exome sequencing data.
From the Wynne Mateffy Research Foundation website (http://wmrf.org)  –
"Peroxisomal biogenesis disorders (PBDs)—also referred to as Zellweger spectrum disorder—is a genetic metabolic disorder affecting children.  Those with the disease have upwards of 50 biochemical abnormalities.  While the spectrum ranges, the prognosis is grim: anywhere from death within the first year to survival into early adulthood with severe special needs.
"Children living with the disease suffer from profound vision and hearing loss, seizures and significantly impaired cognition.
"Estimates vary, but the incidence of PBD is believed to be between 1 in 25,000 and 1 in 50,000."