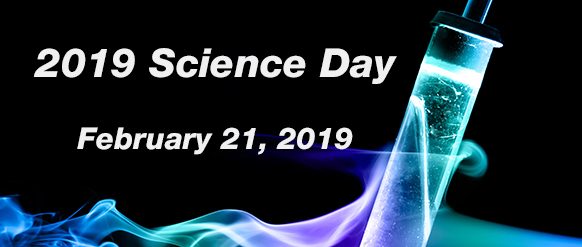 Science Day 2019 on Thursday, February 21st, featured a variety of presentations from Wisconsin State Laboratory of Hygiene (WSLH), Wisconsin Department of Natural Resources (DNR), and Wisconsin Department of Health Services (DHS) staff, as well as from Professor Dan Vimont with the University of Wisconsin-Madison Department of Atmospheric and Oceanic Sciences and Nelson Institute Center for Climatic Research.
Science Day was held at the WSLH's laboratory at 2601 Agriculture Drive, Madison.
Talks were live-streamed on Science Day. Click the links below for an archived recording of the individual talks.
Agenda
12:30 – 12:40 PM    Welcome and Introductions – Dave Webb, WSLH Environmental Health Division Director
12:40 – 1:20 PM     Keynote: Climate Change in Wisconsin – Dan Vimont, University of Wisconsin-Madison
1:20 – 1:40 PM       2018 Wisconsin Flooding – Curtis Hedman, WI Department of Health Services
1:40 – 1:50 PM       Break
1:50 – 2:10 PM       Citizen Lake Monitoring Network – Katie Hein, WI Department of Natural Resources
2:10 – 2:30 PM       Harmful Algal Blooms (HABS) – Gina LaLiberte and Florence Olson, WI Department of Natural Resources, and Dawn Perkins, WSLH Environmental Health Division
2:30 – 2:50 PM        National Atmospheric Deposition Program (NADP) – Mark Olson, NADP/WSLH
2:50 – 3:00 PM       Break
3:00 – 3:20 PM       Environment Enforcement Case: Misty Morning Dairy, LLC – Pam Buss, WI Department of Natural Resources
3:20 – 3:40 PM        Hazardous Waste Case – Mike Ellenbecker, WI Department of Natural Resources
3:40 – 4:00 PM       Environmental DNA (E-DNA) – Maureen Ferry, Jim Amrhein, and Jeremy Bates, WI Department of Natural Resources, and Dagmara Antkiewicz, WSLH Environmental Health Division
4:00 – 4:20 PM       Fake Dope and Rat Poison – Bleeding Disorders Associated with the use of Synthetic Marijuana in WI – Noel Stanton, WSLH Chemical Emergency Response
4:20 – 4:30 PM       Close and Thanks – Dave Webb, WSLH Environmental Health Division Director