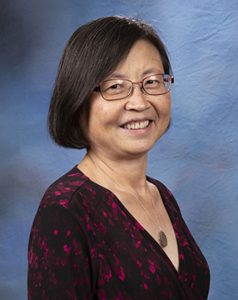 WSLH Newborn Screening Laboratory Co-Director and UW Professor of Pediatrics Mei Baker, MD, received the 2020 Paster Family Foundation Innovation Award from the UW School of Medicine and Public Health in recognition of her newborn screening research and implementation.
The award is given for a project, system improvement, or initiative that has made a difference in human health and/or the lives of patients and their families.
SMPH Dean Robert Golden wrote in Baker's award letter, "Your work is a true expression of the Wisconsin Idea. To combine diagnostic science and technology with medical intervention to improve public health — this is what our school's vision of healthy people and healthy communities is all about. You have helped this screening impact babies in all 50 states and brought hope to so many parents."
Baker credits the Newborn Screening Lab team and her WSLH and SMPH colleagues.
"It is such an honor to be the 2020 recipient of the Paster Family Foundation Innovation Award. I truly appreciate the unwavering encouragement and support from the leadership at WSLH and the Department of Pediatrics," she said. "My sincere gratitude to our newborn screening team in working with me over the past decade, and together we will achieve more in the future."