Bureau of Labor Statistics: Injuries, Illnesses & Fatalities

News Release: Census of Fatal Occupational Injuries, 2013 – October 1st, 2014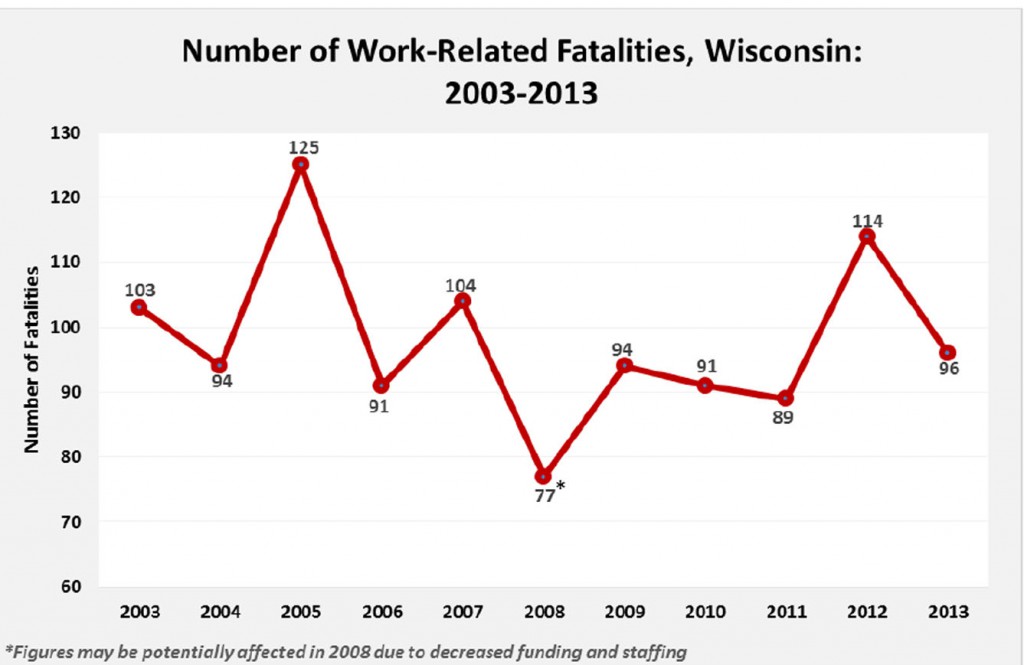 Preliminary data for the 2013 CFOI collection indicate a decrease in work-related fatalities from calendar year 2012. There were 96 work fatalities in 2013 in Wisconsin, down from 114 in 2012.
Click here for our press release, or here for more information about the program.
Preliminary data show a decrease in work-related fatalities in the U.S. from 2012 to 2013. Click here for the national CFOI press release.
All 2013 Wisconsin CFOI data are available here. (Excel)
New OSHA recordkeeping and reporting requirements – September 2014
"OSHA has expanded the list of severe injuries and illnesses that employers must report and updated the list of industries who are partially exempt from routinely keeping OSHA records."
- www.OSHA.gov
Respondents for the 2015 survey may be affected by these changes. Click here to view a PowerPoint detailing the new rules for recordkeeping and reporting, effective January 1st, 2015.
More About the BLS OSHS Program

Who we are
We are the Bureau of Labor Statistics/Occupational Safety and Health Statistics (BLS/OSHS) unit, part of the Wisconsin State Laboratory of Hygiene (WSLH) and contracted with the U.S. Department of Labor's Bureau of Labor Statistics (BLS). We're part of the WSLH's Occupational Health Division, which also includes the occupational health laboratory (WOHL) and the safety and health consultation program (WisCon).
What we do
Our group holds a cooperative agreement with the BLS to collect occupational injury, illness and fatality data for the State of Wisconsin. The Survey of Occupational Injuries and Illnesses (SOII) and the Census of Fatal Occupational Injuries (CFOI) are conducted annually. The data from these collections are unique and produced solely by the BLS and its allied programs, such as our program at the WSLH. We conduct analyses of the data published and disseminate educational materials through media outlets and safety conferences. We fulfill specific data requests for public and private stakeholders. We also provide OSHA recordkeeping training for employer representatives within the state.
We are not OSHA
Though our SOII collection utilizes OSHA recordkeeping as a standard for reporting work-related injuries and illnesses, we are not affiliated with OSHA. Per Public Law 91-596, we are tasked with gathering this data, which we analyze and publish on behalf of the federal BLS. We do not enforce safety regulations, nor do we share establishments' data or personal identifiable information with OSHA or other agencies. The OSH in our program's name simply refers to occupational safety and health and relates to the type of data we collect.
How our information is used
Our collections and analyses can serve a wide variety of purposes, including:
Creating and forming the foundation for legislation and policy
Providing employers with injury and illness data to compare their establishments' rates against those in their industries
Helping to determine insurance rates for sampled industries
Compiling work fatality data to aid in developing prevention programs
Please contact us at (800) 884 – 1273 or email Rebecca Adams, Program and Policy Analyst