Bureau of Labor Statistics: Wisconsin Occupational Safety & Health Statistics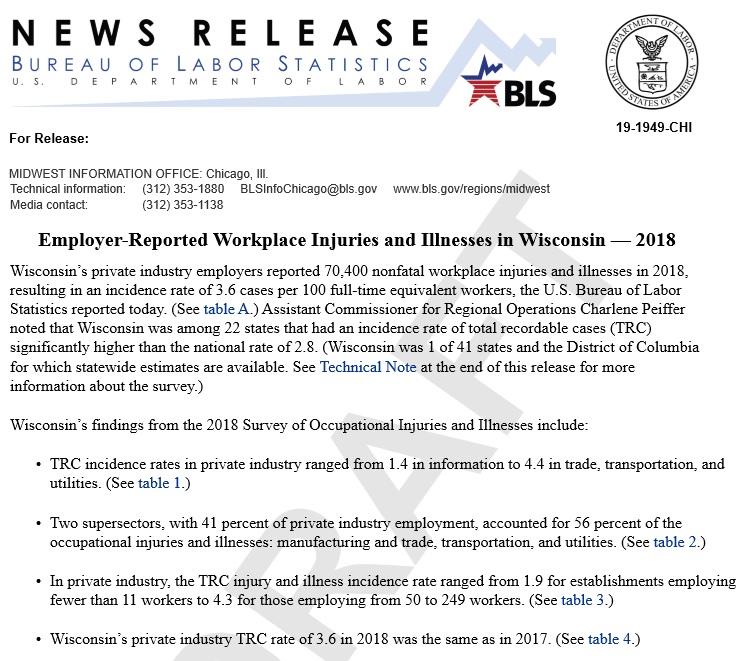 "Wisconsin's private industry employers reported 70,400 nonfatal workplace injuries and illnesses in 2018, resulting in an incidence rate of 3.6 cases per 100 full-time equivalent workers, the U.S. Bureau of Labor Statistics reported today. (See table A.) Assistant Commissioner for Regional Operations Charlene Peiffer noted that Wisconsin was among 22 states that had an incidence rate of total recordable cases (TRC) significantly higher than the national rate of 2.8… " Continue reading…
2018 WI SOII Press Release (PDF)
2018 WI SOII Data Tables: Summary Rates (Excel)
2018 WI SOII Data Tables: Case and Demographic Information (Excel)
2018 US Rates & Numbers by State (Excel)

Survey Respondents (Updated 1/16/2020)

Employers selected for the 2019 BLS Survey of Occupational Injuries and Illnesses were emailed or mailed instructions for completing the 2019 survey as of January 13th, 2020. If you want to check if your establishment was selected to participate, please contact the BLS staff to assist you.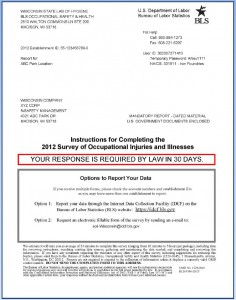 Employers selected to participate in the 2020 BLS Survey of Occupational Injuries and Illnesses were mailed a Notice of Recordkeeping Requirements mid-December 2019. If you received the notification, you are required to keep 2020 incident logs regardless of OSHA-exempt status; records will be collected in January 2021.
Options for 2019 Survey Submissions:
"Fatal work injuries totaled 114 in 2018 for Wisconsin, the U.S. Bureau of Labor Statistics reported today. Assistant Commissioner for Regional Operations Charlene Peiffer noted that the number of work-related fatalities in Wisconsin was up from the previous year. Fatal occupational injuries in the state have ranged from a high of 138 in 1993 to a low of 77 in 2008." Continue reading…
2018 WI CFOI Press Release (PDF)
2018 WI CFOI Data Tables (Excel)
Survey Submission Guides and FAQ
Click here for our Survey how-to guides and frequently asked questions.