BLS Survey of Occupational Injuries & Illnesses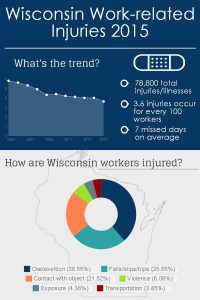 All Wisconsin occupational injuries and illnesses data has now been released for cases requiring time off from work to recuperate. Click here for industry-specific infographics or data in excel format.
National BLS Survey Case and Demographic News Release: Nov. 10th, 2016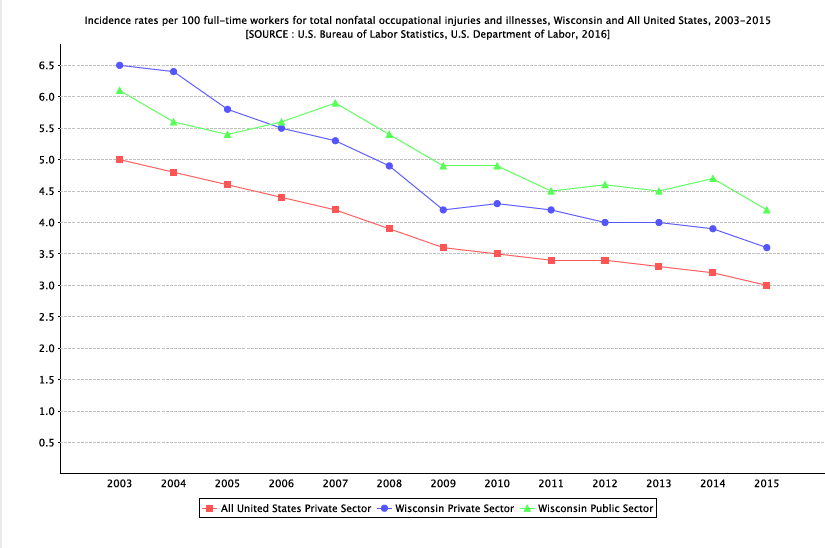 "According to estimates from the U.S. Bureau of Labor Statistics' Survey of Occupational injuries and Illnesses (SOII), there were 78,800 total injuries and illnesses reported by Wisconsin employers in 2015, which occurred at a rate of 3.6 cases per 100 equivalent full-time workers. This is a decline from 4.0 in 2013 and 2014. Nationwide, the total injury and illness case rate declined from 3.4 to 3.3 per 100 full-time workers."  Continue reading…
2015 SOII Press Release (Industry Rates)
2015 SOII Chart 1: U.S. Private Industry Rates vs. WI Public and Private Sectors
2015 SOII Chart 2: WI Rates by Industry, 2014 vs. 2015
2015 SOII Chart 3: WI Industries with Highest Injury Rates
Survey Respondents
Respondents participating in the 2016 BLS Survey of Occupational Injuries and Illnesses will receive a notification to submit early January 2017.
Thank you to all the survey respondents who were compliant in submitting their Survey of Occupational Injuries and Illnesses for 2015. Wisconsin respondents achieved a 97% response rate, which ensures the data will accurately represent Wisconsin industries. If you wish to know how to use this important data to keep workers safe in your industry, please contact Wisconsin's program manager, Rebecca Adams, at (608) 221-6293.
Want to know more about the survey?  Click on the button to see our SOII guides and FAQs: