Bureau of Labor Statistics: Survey Respondents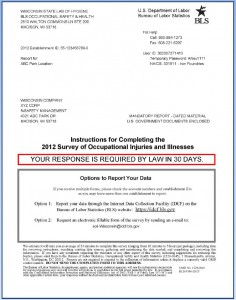 *UPDATE* Participants in the 2014 Survey of Occupational Injuries & Illnesses collection will be receiving their 4th  notice of instructions to report their 2014 data mid-May, 2015.  Non-respondents can expect to be contacted by a Bureau representative in late May.
If your establishment was selected to participate in the 2015 collection, you are required to keep injury and illness records for the 2015 calendar year.  You will receive a notification by mail to report your 2015 data in January of 2016.
To view a list of our most frequently asked questions or for more in-depth instructions on how to submit your data to the BLS, please click the button below.
Options for Survey Submission:
Fax completed Survey form to 608-221-6297.
Call us toll-free at 1-800-884-1273 to report average employees, total hours and work injury data.
Click here to submit online using the BLS website.
Request a PDF fillable form by clicking here and scroll down to Wisconsin.
 New OSHA recordkeeping and reporting requirements – Effective January 1, 2015
"OSHA has expanded the list of severe injuries and illnesses that employers must report and updated the list of industries who are partially exempt from routinely keeping OSHA records."
– www.OSHA.gov
Respondents for the 2015 survey may be affected by these changes. Click here to view a PowerPoint detailing the new rules for recordkeeping and reporting.