Bioaerosols
Mold, Bacteria & Legionella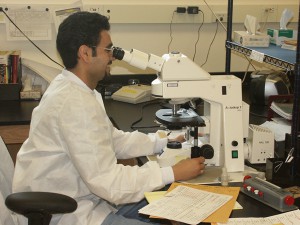 The Wisconsin Occupational Health Laboratory (WOHL) offers a wide range of microbiological testing related to indoor air quality for health agencies, government agencies, industrial hygienists and private citizens. Bioaerosol Unit analyses:
Airborne mold and bacterial analysis on media plates collected by Andersen samplers or other agar impaction samplers
Airborne mold analysis on MCE filter samples
Mold and bacteria analysis on wipe or bulk samples
Total spore analysis collected by Zefon Air-O-Cell, Cyclex-d, Micro 5, Allergenco D, Versatrap, Burkard and other spore trap systems
Fungal spore analysis collected by tape lifts
Direct microscopic examination of bulk and wipe samples
Mold identification to species
Bacteria identification
Mycobacterium from cutting fluids
Methicillin-resistant Staphylococcus aureus (MRSA)
We supply media, collection kits, Andersen and Spore trap (total spore) and WallChek samplers to our customers,
To guarantee quality results, a complete Quality Control and Quality Assurance program is maintained. We participate in the Environmental Microbiology Proficiency Analytical Testing (EMPAT) program for environmental isolates and the CDC Environmental Legionella Isolation Techniques Evaluation (ELITE) program. The Bioaerosols laboratory is fully accredited by the American Industrial Hygiene Association (AIHA).