How to Collect a Blood Specimen
Training Webinars
Below are three webinars that provide detailed instruction on how to complete the information requested on the NBS card, collect the specimen, and submit the specimen to the laboratory for testing.
Webinar #1

Basics on Newborn Screening Specimen Collection and Submission

UPDATE IN PROCESS This training webinar provides guidance on proper newborn screening specimen collection and submission.

Webinar #2

Blood Collection for Babies in Special Care Units

UPDATE IN PROCESS based upon new recommendations
Webinar #3

How to Complete the Newborn Screening Card

This training webinar provides instruction on how to fill out the Screening Card.

 
---
NEW! Click
for a printable NBS Site Liaison form to provide contact information for your site.
---
Specimen Collection Guides
To print a copy, click on the image of the guide you would like:
Click

for a visual chart of the videos' instructions to print and use in your facility.
Click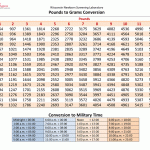 for a chart converting weights and times.
Click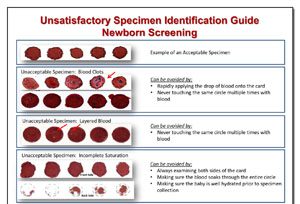 for the Unsatisfactory Specimen Identification Guide.
Click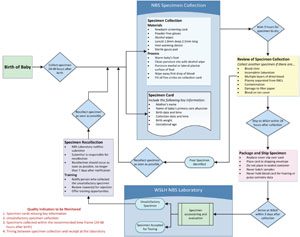 for a chart showing the entire NBS Specimen Collection Workflow.
If you would like laminated copies of any of the above charts, please contact us: NBSqualityreport@slh.wisc.edu
---
Quick Tips for Proper Specimen Collection
Directions are also on back of the blood collection card. (Reference: Blood Collection on Filter Paper for Newborn Screening Programs, Approved Standard; 7th Edition, CLSI Document NBS01-Ed7)
1. Filling Out the Card (see this page for more detailed information)
Always use a ballpoint pen
Please PRINT clearly
To prevent specimen contamination, do not touch any of the filter paper circles, and always place the card on a clean surface.
The following pieces of information are critical and necessary for testing and should be included on all card submissions:

Birth date and time
Collection date and time
Birth weight
Gestational age
Mother's name
Name of the baby's primary care physician

If hearing or heart screening results are not available before the blood screening is completed, leave those fields blank. Hearing and heart screening results can be submitted through We-Trac.
2. Blood Collection
To prevent specimen contamination, do not touch any of the filter paper circles before or after collection.
Keep heel in horizontal position (heel down) at or below heart level and warm the heel to stimulate blood flow.
Select puncture site and cleanse with 70% isopropanol.
Use a sterile, disposable lancet (1.0 mm incision depth and 2.5 mm incision length) to puncture the medial or lateral plantar surface of the foot.
Wipe away first blood drop.
Allow a second LARGE blood drop to form and apply to surface of filter paper circle.
Fill all FIVE required circles from only one side of the filter paper.
Once completed, observe both sides of the filter paper to ensure complete saturation.
Dry specimen at room temperature 3 hours in HORIZONTAL position.
Once dry, inspect the card for any evidence of poor or unsatisfactory specimen collection such as:

blood clots
incomplete saturation
layering of the blood
plasma separation from the red blood cells
contamination of card
damage to filter paper
blood on the tan cover

Forward all specimens to the WSLH within 24 hours after collection.

NEVER BATCH SAMPLES
NEVER hold completed blood card for hearing or heart screening results.

Specimens older than seven (7) days from collection date are unsatisfactory for testing, and a repeat collection will be required.
Upon receipt, the WSLH will review specimen quality. A repeat collection will be required for any specimen deemed unsatisfactory for testing.
3. Specimen Evaluation at Collection Site

If problems occur during specimen collection, or if the specimen appears to be unsatisfactory, please re-collect a specimen as soon as possible. Write CREDIT across the unsatisfactory card (see example) and send it, together with the re-collected card, to the laboratory within 24 hours after collection.
In the event a re-collection is not performed prior to discharge from the hospital, please submit the suspected unsatisfactory specimen to the laboratory for testing in a timely fashion. Do not wait for the family to return to the hospital for re-collection as this may delay notification of critical results. If CREDIT has already been written across the card, contact the Newborn Screening laboratory and notify staff that this card should be tested.
4. Specimen Evaluation at the Laboratory

The Newborn Screening Laboratory evaluates all specimens for acceptability. Those not acceptable are reported as Unsatisfactory. When a specimen is deemed Unsatisfactory for testing:
The WSLH notifies the submitter.
Submitter is responsible for recollection.
Repeat collection is expected within SEVEN days after notification.
5. Specimen Collection Using Capillary Tubes
The usage of capillary tubes is not recommended; however, a proper collection can be obtained if the following steps are taken:
Use a sterile, plain, anticoagulant-free capillary tube.
Use a fresh capillary tube for each circle to be filled on the card.
Empty contents of the tube quickly on the center of one circle to avoid clotting.
Do not scratch, color-in, or repeatedly dab the filter paper with the capillary tube.
6. Additional Resources
Blood Collection on Filter Paper for Newborn Screening Programs, Approved Standard; 7th Edition, CLSI Document NBS01-Ed7
Good Laboratory Practices for Biochemical Genetics Testing and Newborn Screening for Inherited Metabolic Disorders (April 6, 2012), Morbidity and Mortality Weekly Report (MMWR), Centers for Disease Control and Prevention